Vinyl Wraps
View Vinyl Wrap Gallery
High Value Signs creates some of the best vinyl wraps on the market today. They are ideal for all your marketing needs.
Are you searching for cohesive vinyl wraps for your vehicle fleet, breakroom refrigerator, business windows, or a large branding message to apply to any smooth surface? You have come to the right place. We have the right solution for you. Our expert vinyl specialists will help you with all your unique vinyl branding needs.
On the other hand, do you want your entry walls, tables or front desk wrapped in custom vinyl designs? If so, our dedicated team of specialists will help you choose the right vinyl material to suit your requirements. We also assist you in designing, fabricating, and installing the materials professionally. We care for your brand.
Give High Value Signs a call today on (214) 571-7032 for your Free Vinyl Wrap Consultation!
Vehicle Wraps And Graphics
Vinyl wraps can popularize your brand with your customers and increase customer confidence over time. When you are involved in a business that visits clients at their homes, people are hesitant to let you inside their homes most of the time. You may have already experienced this situation if you operate a cable installation service, electrical repair service or a pest control service. That is where vinyl wraps come in handy. Your client will feel confident in letting you into his/her home when your van has a vinyl wrap displaying your brand.
Our vehicle wrap services include:
Vehicle wraps are increasing in its popularity across a wide range of industries. Some of the most popular industries include plumbers, handymen, repair techs, electricians, cable installation companies, tutors, dry cleaners, and delivery vehicles.
In fact, vehicle vinyl graphics or wraps can benefit almost everyone in business. Whether you want a few vinyl graphics, a full vehicle wrap or wraps for the entire fleet, High Value Signs offers some of the best vinyl vehicle wraps in the industry.
Vinyl Wraps For Any Surface
Vehicle wraps are not the only way vinyl is used to promote a brand, increase its visibility, and improve the customer experience. High Value Signs offers a wide range of vinyl solution for all aspects of your business – starting from windows, walls, and tables to any other smooth surface such as plastic, acrylic, carpet, metal, and more.




Today, more and more businesses are using vinyl wraps to produce attractive murals to promote their brands. These murals are kept in break rooms, lobbies, windows, conference rooms, and hallways. These murals are important to inform the visitors and staff about your brand. Vinyl murals are resistant to dirt, traffic, and regular cleaning – which makes them an ideal option for high-traffic areas.
Custom Wrap Company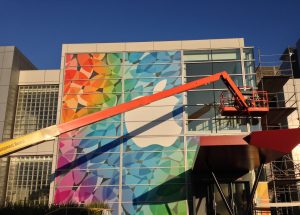 We are a full-service vinyl graphics shop that handles every aspect of your vinyl wrap project. Our expert sign team will listen to your requirements, goals, and ideas throughout the free consultation session. We can recommend the right product depending on your specific needs and budget. Since there are a lot of options out there, you need an expert team to help you pare down the options and choose only the best products that match your requirements.
We offer a full design service for all your vinyl graphics needs. In fact, our team will be working with you to make sure that you get everything you want. We can start from scratch or work on your existing brand guidelines. Once you have approved our final design, our on-site team will take over the project and produce your wraps quickly, efficiently, and according to your specifications.
We offer a wide range of vinyl products as well as installations to ensure the product is free of bubbles and wrinkles. The wraps should be even and straight for an attractive and professional appearance.
Free Vinyl Wrap Consultation
High Value Signs is a local company that offers attractive custom vinyl wraps for your business requirements. We offer the best value for your money. In fact, we intend to become your long-term signage provider for all your vinyl graphics needs.
Call High Value Signs today at (214) 571-7032 for your Free Expert Vinyl Wrap Consultation!