Custom Banners
View Banner Gallery
Whether you want to promote your business or a special event, High Value Signs can create the ideal banner for your needs. With our great selection of materials and sizes, it's easy to get the best banner for your individual requirements.
Indoor banners, sale banners, tabletop retractable banners and so on, we can work with you to make the ideal banner for your goals. You can leave the whole creation process to us, we will make sure that your banner displays all of the relevant information in a way that will grab people's attention for all the right reasons.
Call High Value Signs at (214) 571-7032 to set up a Free Consultation with one of our experts in Banner Design!
Promotional Banners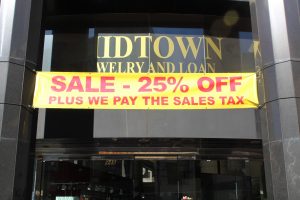 Banners can serve a wide variety of purposes. Business promotion is certainly a very common use. These banners can be used indoors, as well as outdoors, to attract people to visit an event or location, as well as to show them where they need to go once they are inside. Indoor events, such as tradeshows, often use retractable banners, while outdoor events tend to use durable vinyl banners.
High Value Signs know that you can have help reaching your business goals when you use banners, however, your banners need to have a professional appearance. Acting as your local sign supplier we can care for your marketing materials in a quick and professional manner.
Banner Support Structure
There are various ways you can display your banner and each will require a certain type of built-in hanging mechanisms, like grommets or an external system like a stand. Some banners will need both. We will meet with you for a starter consultation and talk to you about how you plan to use your banner and where you will place it, we will then create a quote which includes any necessary structures. We offer various ways that you can display your banner and will happily chat with you about the available products. Call in to us so that we can show you a few samples of materials, as well as structures.
Full-Service Sign Company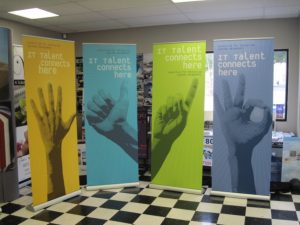 High Value Signs cater for all of your sign manufacturing needs, that includes the design, fabrication and element sourcing for your sign. If you have chosen a banner with a stand we'll show you how to set it up to avoid creating confusion or frustration. If you have chosen a large format banner or a hanging banner we will work along with you to install it.
Free Expert Banner Consultation
When it comes to creating banners that are attractive and help you reach your goals High Value Signs have you covered. We are a local sign company who can provide you with a one-off banner, or create numerous banners to cover your outdoor, indoor, and promotion needs.
Give High Value Signs a call today at (214) 571-7032 to arrange to meet one of our Banner Experts for a Free Consultation!