Commercial Truck Wraps
Do you have work vehicles which are used to make deliveries, to drive to customers homes to carry out work or used as corporate vehicles? You can maximize the marketing potential of your work vehicles by using a wrap or graphics which lets people see your brand, your logo and how to contact your company.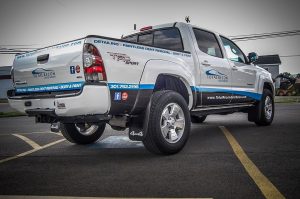 When you let your branding onto the roads you create better visibility for your business to commuters who are also on the road at the same time, as well as to people walking by and anyone who happens to be looking out of the window in your direction. Having a fleet of branded trucks can certainly ensure people start to recognize your brand, as well as give assurance to your current customers that you are a professional company who is at the ready to work with them.
Call High Value Signs today at (214) 571-7032 for a Free Consultation with a Truck Wrap Expert!
High-Visibility Brand Marketing Tool
Imagine for a moment traveling the same route day in and day out as you commute to work. You are simply another car in a long line of vehicles. Now imagine you are driving a truck with a custom wrap showing off High Value Signs. You start to get a lot more calls to your business mobile, strangers come up to talk to you and suddenly it is as if your brand is known by everyone.
This all can happen because vehicle wraps give more visibility to the message you are trying to send out, they also make sure that your branding is consistent. The majority of commuters take the same route each day, so even if aren't aware of it, you tend to pass the same people day in and day out. If one of them had a gigantic sign you would remember them for exactly that. We can say the same for vehicles. When your vehicle has a custom wrap it becomes memorable and attracts attention, as well as reinforcing your brand message.
Completely Customized For Your Needs
All businesses are different, each with their own message to get out to the world. Your wrap should work for you which means it needs to be eye-catching, professional and able to deliver a message from a distance. Our designers have mastered the art of creating the perfect design for your vehicle and will help you to choose the product which is ideal for what you need.
High Value Signs designs, manufactures and installs:
Full Or Partial Truck Wraps
Perforated Window Film
Custom Graphics, Stickers And Decals For Trucks
Vehicle Magnets
A large percentage of companies have various vehicles as business utilities and we are ready to create a wrap for them all. Our wraps can be designed, modified and perfected so that they give you the ultimate in brand consistency.
Protect Your Vehicle Investment!
Truck wraps are certainly an excellent branding tool but they offer more than that. Since the vinyl film is durable it provides protection for the paintwork on your vehicle. You make a significant investment when you by a work vehicle and you need to take all the necessary precautions to ensure it lasts as long as possible.
To make sure that your wrap looks great and has a long lifespan it needs to be installed correctly. Our team of professional installers will care for everything, from the first consultation to installation, making sure that we are both proud of the end product.
Complete Truck Wrap Manufacturer
We are with you from the start of the process right to the end. Our fully-trained designers, manufacturers, and installers will ensure that your truck wrap looks amazing and will last a long time.
Does your vehicle already have a wrap that is now damaged? It doesn't matter which company did the work, we can get it looking great again.
Free Truck Wrap Consultation
Allow us to help you give your business investment the protection it needs as well as widen your business visibility and help you bring in more clients with an attractive truck wrap which is also great quality! High Value Signs is your partner for creating appealing and cohesive wraps, graphics or other signs for your business as you require, all with the aim of supporting your brand and giving your business visibility a great helping hand.
Call High Value Signs today at (214) 571-7032 for a Free Consultation with a Truck Wrap Expert!