Dimensional Letters
View Sign Gallery
Impactful, dynamic, and captivating, dimensional letters, graphics, and signs are an incredible option for virtually any organization that hopes to attract new likely buyers.
Dimensional letters, commonly known as 3D or raised letters, are text or designs causing depth and interest to an otherwise dull space. Relatively easy to produce, these signs are molded, cast, fabricated, or cut from solid material to build this look.
Dimensional signs and graphics offer the promotional solution that smart business owners desire for their location: longevity, high-visibility, and an attractive feel.
High Value Signs can confirm that custom dimensional signs are a clever alternative for any sort of company. Whether you manage a restaurant, salon, government building, church, etc., our dimensional letters are sure to look great both outside and inside your premises.
We custom produce raised lettering that is specially produced to be highly visible so that they expand and support your advertising reach. High Value Signs prefers to use the most appropriate elements available so after our professional installation of your dimensional signage elements, you can expect them to keep building excitement around your company and brand for many years.
Call High Value Signs today at (214) 571-7032 for your Free Consultation!
Appealing Storefront Signage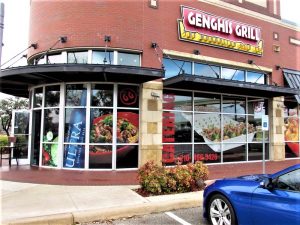 Intriguing and eye-catching, dimensional signs are an excellent option for your primary sign. They generate dimension, texture, and depth to your storefront, leaving an attractive and professional vibe. The adaptability dimensional letters supply is also positive. While usually built on to the front of your business, they deliver greater benefits when included into message boards, post and panel signs, and monument signs. Channel letters are a similar alternate choice to dimensional letters.
Though 3D letters are not illuminated from within, High Value Signs can add in back lighting, lighting fixtures, or outline lighting during dimensional letter installation, so that your dimensional letters are immediately found even during the evening. Our custom dimensional letters make sure your company catches the attention of new clients and your unique branding message gets delivered, consistently.
Attractive Indoor Lettering
Dimensional letters aren't solely for your storefront; they will also provide your business a professional mood as indoor logo signs. When used next to your lobby, your corporate logo will certainly be the initial thing your clients see immediately when they enter into your building. Dimensional reception, logo, and lobby signs are fairly popular, and they can be fabricated using a variety of materials, with options like lighting, if required. Dimensional letters may also be used as directional signage and other engaging signage elements to deliver a major benefit in retail stores and convenience stores.
3D letters, contrary to the name, aren't just constrained to lettering either! Your new signage can have logos, images, numbers, or a mix of many different elements fitted on the walls of your premises. High Value Signs's team of dedicated designers can assist with generating indoor signs and display elements tailored for the specific style and identity of your organization. If you dream of creating an impactful 3-dimensional appearance that undoubtedly makes your branding stand out, High Value Signs will deliver dimensional signage and lettering that best speak the values of your brand.
Durable Dimensional Letters
High Value Signs produces your dimensional letters from a number of different materials that best match your business and brand. Depending on your design and goals, we may use plastic, light foam, wood, and/or metal for the primary media for your project.
A durable sign material, plastic is known as being incredibly versatile and includes coroplast, acrylic, polycarbonate, and vinyl. The hardiness and weather-resistance of plastic lettering make it a fantastic material choice for outdoor dimensional signs, graphics, and images. Metal is a good solution for indoor letters because of its elegant aesthetic, but is incredibly durable when applied on the outside of your business. Common metals used for sign making include aluminum, brass, stainless steel, copper, and bronze. A popular choice for eye-catching, colorful lettering and graphics, light foam is preferred mainly because it is thick, lightweight, sturdy, and durable. Our experts will assist you with making a decision on the most effective signage type and materials to accomplish your desired finished appearance all within your budget allotment.
Full-Service Sign Company
It isn't always easy to select the ideal sign for your brand and business. You will require patience, experience, time, research, and an efficient fabrication system. When you trust your signage project to High Value Signs, you can be confident that you will definitely not go through this by yourself. Our team of dedicated sign fabricators and sign and graphic artists can impart their expertise to assist you throughout the commercial signage construction process.
High Value Signs is your trusted sign and graphic company. Our team of professionals conceptualize custom sign designs, we support you in selecting the ideal materials and mediums for your business purpose, and we make sure that your signs and graphics are deliberately placed and installed. We are always only a call away if you should require any assistance or support for your custom dimensional signage.
Free Dimensional Letters Consultation
High Value Signs offers virtually limitless personalization possibilities for your brand marketing graphics, signs, and displays. Regardless whether you are wanting to attract more potential clients to shop at your location, boost your brand, or make it less complicated for customers to find what they need, our dimensional letters, logos, and images are an ideal choice for your business needs.
Call High Value Signs today at (214) 571-7032 for your Free Consultation with a Dimensional Letters Expert!