Coronavirus Signage
Effective, brand-building, and informative signs, graphics, and full displays provide quite a bit of value to your company or organization, and can provide additional benefit as we deal with Covid-19. Whether you are supporting intuitive wayfinding or encouraging staff safety, your commercial signs support seamless business operations.
Working with a professional makes choosing the right indoor signs and graphics simple. Multiple factors need to deserve consideration, for example, what objectives and goals you will meet with your signage elements, how your customers find their way around your space, legal regulations, and even the wear you expect your signs to endure all have an impact on the type of signs you need to create a safe, comfortable place to shop and work.
Your local commercial signage experts, High Value Signs understands how impactful and effective signage can support premises navigation, inspire or protect your team, and reinforce brand awareness. By manufacturing high-quality and attractive sign and graphic elements that are designed specifically for your company, location, and goals, we bring your business or organization to greater heights.
Call High Value Signs at (214) 571-7032 for your Free Consultation!
Wayfinding & Safety Hospital Signs
When faced with a national health emergency situation such as the coronavirus, in particular Covid-19, it's key that new patients and hospital employees understand how to best navigate your facilities. Important wayfinding signage, instructions, and essential safety warnings should start even before your patient steps into the medical center. The potential to decrease contact is why hospital signage and wayfinders are critical. Effective signage is able to support more streamlined service, operate as an important reminder to embrace safer habits, and lessen the danger of further spreading illness by minimizing in-person interactions.
Unmistakably distinguish acceptable parking areas and assist arriving traffic by providing helpful support using practical hospital signs and wayfinders by High Value Signs. To increase your sign and graphic visibility at all times, we offer eye-catching reflective signs and graphics. Supportive indoor hospital signage can be as basic as more hand washing notices, information regarding new security and safety procedures and practices, and increased directional sign and graphic elements to help cut down on interpersonal contact.
From assisting new patients with selecting the right spot to park to help with keeping returning patients that need support for medical requirements apart from Covid-19 continue to be virus-free, impactful signs and graphics can help you with lowering health concerns for you, your dependable team of medical care specialists, and your patients.
Assisted Living & Nursing Home Signage
When nursing homes are faced with a national health crisis such as the coronavirus, particularly Covid-19, it's vitally important that residents and healthcare providers can effortlessly figure out where to go and the shortest or safest way for getting there. Precise navigation assistance, instructions, and safety warnings need to begin even before your patient steps inside the nursing home or assisted living facility.
The ability to lessen contact is the reason nursing home signs and graphics and effective wayfinding signs are crucial. Useful signage can assist with more streamlined patient service, operate as an important reminder to conform to healthier habits, and decrease the possibility of spreading the infection by reducing personal contact.
Indoor nursing home signage can be as basic as more hand washing notices, reminders of enhanced safety and security procedures, and additional directional support signage elements in order to cut back on person to person interactions. Supportive signs and graphics may help decrease health risks to you, your reliable staff of medical practitioners, and your patients.
Business Update Signage
Is your business going through adjustments to your business practices or processes or your open hours in reply to Covid-19? Highly-visible, practical signage products help your patrons identify what they need to do in order to benefit from your products or services while contending with the current stipulations.
If you'd like to direct your patrons to your drive-thru or alternative location, supply important information related to reduced hours of operation, or provide alternative or temporary contact or phone details, High Value Signs produces the professional signage elements your business wants.
Our professionals are able to offer minimal exposure new signage components. This gives us the ability to deliver your functional signage products, including installing them on-site, without needing any physical or face-to-face interaction with you. As things are likely to change suddenly to try to mitigate Covid-19, we are still able to provide extremely fast fabrication on straight forward assistive sign and graphic elements, and once you have been set up with us as an existing client, our team can provide updated or temporary signs and graphics with little more than an email or short phone call with the needed updates.
Every Sign Your Business Needs!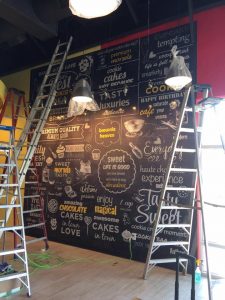 High Value Signs custom creates professional, engaging safety, wayfinding, and hospital signage products. Whether you have a need for temporary signage elements to explain to customers and prospects about your business modifications in response to the coronavirus, or are using the quiet to prepare for new branded commercial signage to be on site once you can reopen your business, High Value Signs supplies impactful business signs and graphics to support you during these uncertain days.
From department signs to product displays, our professionals are aware of the distinct and specific specifications of specific verticals. Our specialists consider your branding, corporate goals, and physical space in order to develop the proper combination of signs for you.
Whether you need an individual graphic or a whole assortment of commercial signage elements, High Value Signs will organize the whole signage project for your business.
Our commercial sign services include:
Free Expert Sign Consultation
High Value Signs is fully committed to providing the help you need as we all navigate this confusing period in time. Our dedicated, dependable staff is well-equipped to design and deliver the branded, high-quality commercial signs you need to promote product promotion, brand awareness, wayfinding, or customer support.
Call High Value Signs at (214) 571-7032 for your Free Consultation with a Signage Specialist!